Dr. Victoria Boyd
What impact do you have in the community?
Should you create a nonprofit? Can your business have greater purpose and serve?
 These questions and more can be answered by Dr. Boyd. She understands the value of aligning your purpose, the process to be effective and strategies for your success.
Explore the specially designed training in nonprofit board development and organizational management. Tap into the her leadership expertise and knowledge of current regulations and trends to be effective, she WILL guide you to success. 
---
RESOURCES & PROGRAMS
Tips, strategies and insight for sound nonprofit practices and how businesses can have greater social impact. 
Board Bound Leadership - Join other visionaries as they strive to be the 'BEST' by gaining a thorough understanding of nonprofit board leadership. Great training for a board orientation, those aspiring to serve on boards, seeking to serve in a leadership capacity.Contact us today on the program to meet your needs.
Dr. Victoria Boyd is here to help.
Speaker:  Dynamic, engaging and and always with valuable takeaways for the audience. Topics include:

Being a 'Philantrepreneur'
What is YOUR WHY?
Marketing for Nonprofits
Transforming Purpose into Profits
The 4 Elements of Board Leadership
Intentional Leadership

Trainer

: Nonprofit management covering various specialty topics to meet your organizational needs. A certified NxLeveL/SBDC and UNLV instructor Dr. Boyd share her expertise to make sure you have all the tools and resources you need to be successful. 
The Wealthy Teacher: Answering the question, What's next?
We often ask What's next? Do you know how to find the answer? Is your career in transition due to layoffs, early retirement or simply saying "I need more!"  Want to start a business or nonprofit? Support is here to meet your needs, fit your style and tap inot your core values.  What's next?  available in paperback and Kindle at all the major online outlets – click here for Amazon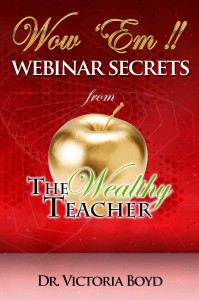 WOW' EM!! Webinar Secrets from the Wealthy Teacher. 
Do you create and present webinars? Make sure the format and presentation maximizes learning and goals. This step by step guide will help you create a content driven, engaging and goal centered session in just 57 minutes. Aimed to move the participants to action. To get your copy – click the book image.
---
What others have to say…
Every visionary needs a plan.  I had a dream, but needed a strategic plan to turn my dream into a profitable business.  Dr. Victoria Boyd is a brilliant business woman who has helped me take my "vision" and turn it into a marketable, profitable business.  She also understands my greater purpose is changing the world, one person at a time, through my business Living Well Organic, and has helped me create a business plan that is both effective and accomplishes my mission of helping people reach their optimal health.   Dr. Boyd tells you "you can do it!" and provides a step by step plan, marketing strategy, training on the latest technology and outlines revenue streams to make sure it is a profit earning success!
Jennifer Mujica, Founder